History
Professional House Painters
How B and E Painting went from a man and a paint brush to a team of professional house painters.
After working a number of years at a factory in his hometown of North Canton, Ohio, Bruce Diehl decided to make a big change in his life. With the support of his family, Bruce began what is now known as B & E Painting. At that time, Scott Diehl and his sisters were still kids, and who would have guessed that nearly 30 years later Scott would be running B & E Painting with the same drive and integrity that his father started it with. Scott began painting off and on with his father's company at about the age of 12 years old.
Scott attained his Bachelor's degree in Business from Kent State University and shortly after began a factory job. Scott kept his position at the factory for a year, until he returned to B & E where he and his father became partners in 2007. About 5 years later in 2012, Bruce Diehl put away his paintbrushes and went into retirement. It was at this point in time that Scott bought out his father's share of the business to be the full owner of B & E, and the rest is history! Despite being retired, you can occasionally find Bruce with a paintbrush in hand, assisting the crew of B & E, wherever his expertise is needed.
Both Scott and Bruce live in Jackson Township with their families. When they're not busy providing the Stark County area with the best in residential and commercial painting services, they're your neighbor next door! You can find our owner Scott Diehl enjoying time with his lovely wife and 2 beautiful daughters. Not too far down the road, you'll see Bruce Diehl spending his time with the most prized treasures in life, his 7 wonderful grandchildren.
Being a family owned and family operated business, we know what's important – honesty, respect, and pride – all of which are present in every aspect of business with B & E. Now that you know a little bit about our past, we hope you'll make B & E Painting a part of your future!
Community Involvement: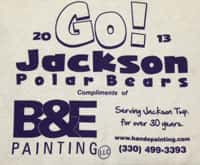 The heart of B & E Painting can be found in our hometown of Jackson Township! We take pride in our local sports teams and community, that's why we're happy to show our support for wonderful organizations like:
The local Jackson YMCA
B & E is active with the local Jackson YMCA organization, lending a hand whenever we can.
The Jackson High School Football Team
B & E's crew can be seen on the sidelines cheering our Jackson Polar Bears on to victory. We show our support also by our involvement in their fundraising and booster activities. You may have even seen a few of B & E's "touchdown" team hankies at the latest game.
Jackson Booster Club
Whether it's academic or athletic achievements, B&E is proud to sponsor and support the local Jackson Booster Clubs.
All Interior & Exterior Painting
Pressure Washing
Power Washing
Ceiling Repairs
Textured Ceilings
Drywall & Drywall Repairs
Cabinet Refinishing
Staining
Aluminum & Vinyl Siding Painting
Deck Staining